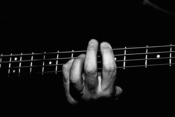 I am a bassplayer from Germany. Since the early '80s I play professionally with a lot of bands and great musicians like
Randy Hansen
,
Buddy Miles
R.I.P. (Hendrix, Santana),
Mel Gaynor
(Simple Minds),
John Hayes (Mothers Finest)
,
Marla Glen
,
Alex Oriental Experience
,
Assassin
and many, many others. I also worked as a demo-artist and gave workshops and clinics for different music companies (EBS, Lexicon,
Roland
,
Warwick
,
Yamaha,
Ashdown
and others). Since 2005 I play the fantastic
EBS bass amplifiers
and speakers and use EBS and
Lexicon
FX. I always loved to experiment with sounds and FX. Check out my
Solo-Bass videos
..."
Manni von Bohr started his musical carreer in Germany at the age of 13. At first, as it was usual by this time, he played in coverbands and naturally his roots were
The Beatles
,
Jimi Hendrix
,
Cream
,
Black Sabbath
and all the rock music of that time. There was no doubt, what instrument he should play. His natural rhythmic talent made the choice clear: drumming would be his mission in life. After playing with several local acts he switched to the professional world in 1975.

From 1975 to 1977 he played with the band "Message", formed by English musicians and toured as opening act with
Lynard Skynard
,
Wishbone Ash
and
Nazareth
, in the studio he recorded three LP's with "Message".

Together with "Message"-bassist
Horst Stachelhaus
he joined the legendary German rock-act >>
Birth-Control
<< in 1977 and during the three following years he recorded four LP's and played a lot of tours.

From 1980 on Manni worked with the producer
Zeus B. Held
in London, former keyboarder of "Birthcontrol" and a broad diversity of musicians like
Lenny Mac Dowel
l (flute, producer) Michael Herting (keyboarder with Peter Herbolzheimer big band a. o.) and >>
Jochen Schroede
r<< (actor, singer, "Schroeder's Road Show").

A studio session at the studios of Zeus B. Held in 1981 initiated a longlasting and intense musical cooperation, where Manni met Alex Wiska. >>
Alex Oriental Experience
<<, a rock trio with drums, bass and turkish saz, brought Manni and Horst Stachelhaus together again. The result was a whole lot of gigs, records and tours.

In 1986 he played with the English hard'n'heavy formation >>Hammerhead<<and from 1987 >>Alex Oriental Experience<< continued.

Since 1992 Manni and his rhythm-mate Horst Stachelhaus have been forming the "
Randy Hansen Band
" with the American guitarist and Hendrix specialist Randy Hansen from Seattle/Washington. Twice a year tours brought and bring the trio with the very authentic Hendrix show to Scotland, Finland, Italy, Austria, Netherlands, Belgium, Luxemburg, America a. o. The Band played several live TV-shows (e.g. SWF >>Extraspät in Concert<<) and
released three CD's with original Hendrix and Hansen´s own materia
l. Two of these have been recorded and produced at Manni's own Studio "Manniax"
'
In 1997, he formed a Duo with drums & percussion instruments together with the great percussion-player
Hakim Ludin
from Afghanistan, who is known in the percussion-world as one of the most inspiring up and coming percussionists. This breathtaking world-music performance, just played with Hakim´s fine percussion instruments and Manni´s huge drumset combines all sounds and grooves of that categorie from a whispering waterdrum till the roaring thunder of the double bassdrums.